A list of the main features that our Sibelius templates offer.
Setup Time
If you read this TWS developer blog post, you'll recall his race car analogy. How much time and resources would it take to build your own machine? With our templates, you get to skip the building and fine-tuning processes and go straight to the getting-the-work-done process.
The biggest "feature" of our Sibelius templates is the hundreds of hours you'll save by not having to define all the instruments yourself. Since we have done all of the setup already, you have the opportunity to jump right into the driver's seat and start writing immediately.
Template
The .sib file that you use in Sibelius. Every patch in a sample library has a corresponding custom instrument definition that can be added to the score. All percussion sounds are accounted for also, with many added features that you can only get from The Write Score.
Percussion
Not a percussionist? That's OK, we've mapped out every single percussion sound that is in each library.
One element that you will only find in our templates is Input Variables. Input Variables allow you various options of note input into your score based on the sound you want. An example of this is the bracketed notes in the pictures below. The Maps file also reflect these items.
For those of you who bought Sibelius for any of the specific 3rd party sounds that are included with the software's sample libraries, like the drumline sounds, The Write Score not only has Input Variables for some of these, but we also have other notehead options – like crossovers – that you can't find anywhere else.
These two percussion mapping diagrams are from SE6 Template 6.0a:
More example percussion mapping diagram images can be found in the Maps section below.
SoundSet
An XML file that lets Sibelius communicate with the playback device. Our customized sound sets will allow Sibelius to correctly sort out all the instruments, techniques, articulations, controllers, and keyswitches for every instrument defined in a template.
Key: Our sound sets have been designed to distinguish themselves from any other sound set that a user may have in use in a particular Playback Configuration. We want specific patches to be loaded – especially if other sample libraries are in simultaneous use. What this means for you is you don't need to worry about which instruments get loaded into whichever device, our custom instruments and sound set will take care of that for you.
Readme
A PDF file that has all the information you need to use a template. Including, but not limited to, this table of contents example:
Important Information
Getting Started

Your Writing Environment
Playback Configuration
Adding Instruments to the Score

The Maps

Overview
Pitched Instruments

Controller Changes & Keyswitches
Sounds Above the Range

Unpitched Instruments

Articulations
Tremolos
Controller Changes & Keyswitches
Keyswitches

Naming Convention
Inputting Notes

With a keyboard
Without a keyboard
Entering Controller Changes & Keyswitches
Input Variables

Dictionary (explanation)
Customizing Instruments
Appendix A: Identifying Template Versions
Appendix B: TriggerTest
Appendix C: Export Manuscript Paper
Appendix D: Merging Templates
Starting with our Sibelius family of templates, each Readme file is available to download for free. See each template's product page for the download link(s).
Maps
A PDF file that contains all template Dictionary items, keymaps and Input Maps, and of course, all of the template defined instrument mapping diagrams.
Playback Dictionary
Gone are the days of having to use the cryptic MIDI messages to achieve the various aspects of playback. Sibelius' powerful Dictionary allows users to type Technique text into a staff to get the same results.
Click on the image to view an example of one of our Sounds charts. Dictionary items in parenthesis are ornamental (staccato dot, slur line, etc.) as opposed to Staff Text.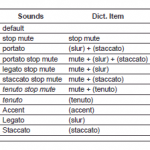 Keymaps & Input Maps
The keymaps and input maps not only show you where the sounds are in relation to a keyboard, but they also contain the template Dictionary items, notehead variations, articulations (if necessary), and Input Variables (if applicable) that you will need to know when using a MIDI keyboard for note input in Sibelius.
Click on the images below to view examples.
Mapping Diagrams
Whether you use a MIDI keyboard for note input or not, at some point in your writing you will more than likely need to reference the mapping diagrams. Is it faster to write by entering notes with a MIDI keyboard or to enter them manually? The debate will go either way, but you just may find yourself using a mix of the two.
Click on the images below to view examples of percussion mapping diagrams.
TriggerTest
Do you have your Sibelius work environment setup properly?
There is a folder in each template package labeled "TriggerTest". Contained within this folder is a set of sib files that has every instrument and all the sounds – with any applicable Input Variables and switch variations – on the staves which you can use to perform what we call a TriggerTest.
The idea is to play each staff individually and watch the playback device's keyboard to make sure each and every sound "triggers" the way they should.
EXTRA: Another way to use the TriggerTest files is to just play them back and listen so as to get an overview of ALL of the sounds that are available in the sample library you're using. There may very well be several sounds contained in the library that you previously didn't know about. ***
Video examples of this in action can be found on our Sibelius Videos page.
*** The folder in the SE6 and S7S templates is labeled "PlayTest" instead of TriggerTest. The files are identical, it's just that Sibelius Player does not have a visual interface that allows you to actually view the triggers.
Requirements
The program and system requirements for each template can be found under the Requirements tab of each product page.
Product Support
When you purchase a template from us, we're not going to leave you in the dark on its usage. The best place to get the answers to your questions, aside from the included documentation, is to communicate directly with our template developers on our Support Forum.