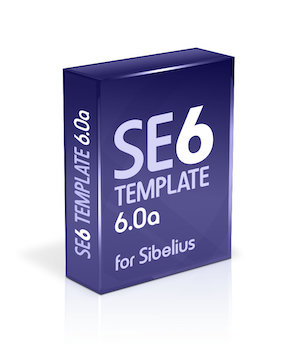 The bridge between Sibelius 6 and Sibelius Sounds Essentials (v6).
Developed by Hugh Smith
This template provides you with the tools you need to make full use of the Sibelius Sounds Essentials sample library that is included with Sibelius 6. From the detailed mapping diagrams to the useful input variables, you'll be able to quickly get into the driver's seat so you can start writing your next masterpiece.
Be sure to read the Specifications and Requirements sections below for more details regarding this template. For an overview of what all our Sibelius templates have to offer, please read Sibelius Templates: Overview or watch the Sibelius Templates Overview video.
SE6 Template 6.0a is merge-compatible with these templates:
Want it all? Automatically receive special bundle pricing with our Sibelius Bundle Builder!
Readme File
View online: Sibelius SE6 Readme
Specifications
Package contents (Sib_SE6_Template.zip – 2.4 MB):
SE6_Template_6.0a.sib – Sibelius file with all SE6 Template 6.0a instrument definitions.
SE6_Readme_6.0a.pdf – Installation and setup instructions, how to read the Maps file, and more.
SE6_SoundSet_6.0a.xml – Sound set file that Sibelius uses to trigger correct SE6 sounds in Sibelius Player.
SE6_Maps_6.0a.pdf – Dictionary charts, mapping diagrams and input maps that show how all the SE6 instruments are defined – including percussion.
SE6_PlayTest_6.0a/ – Folder with SE6 PlayTest 6.0a files.
SINGLE-USER_License.txt – A copy of the license agreement.
Requirements
Software
This template requires that you have the following items already installed:
Notation Software: Sibelius 6.x
Sample Library: Sibelius Sounds Essentials (included with Sibelius 6)
Sibelius is now on version 2023.xx. Get Sibelius now!
If you're starting with Sibelius 7, you'll want S7S Template 7.1a instead.
System
Your computer system spec requirements are dependent on what is needed by the software items above. Consult the documentation that is provided with them for details.
Licensing
This template falls under our SINGLE-USER License.
We also have Multi-User Licenses available. Please use our Contact page to request a quote.