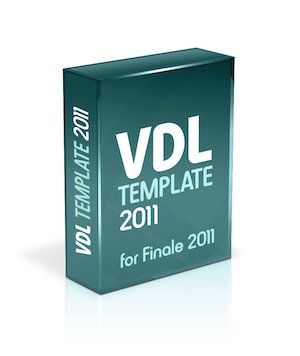 The bridge between Finale 2011 and Virtual Drumline 2.5.
Developed by Ted Boliske
This template provides you with the tools needed to make use of the powerful percussion sample library Virtual Drumline within the notation software Finale 2011. From detailed mapping diagrams, text expression library, etc. you'll quickly get into the driver's seat so you can start writing your next percussion masterpiece.
Be sure to read the Specifications and Requirements sections below for specific details regarding this template. For a more complete overview, please read Finale Templates: Overview.
Readme File
Feel free to download this template's Readme file:
Finale VDL Readme 2011 (12.86 MB)
Compatibility
This template is compatible with Finale 2011 or later. Note that enhancements and changes to newer versions of Finale may not be available with the template.
VDL Keymaps
Finale / VDL users may find our free VDL Keymaps quite useful when using this template.
Specifications
Package contents (Fin_VDL_Template _2011.zip – 13.9 MB):
FIN11_Templates/ – Folder containing indoor, outdoor, and basic battery templates (.mus files).
VDL2.5.2_Finale11 Template READ ME.pdf – Setup instructions, Notation Keys, and more.
Library Files/ – Folder containing Library Files: percussion layouts, text expressions, staff styles, and XML library for both Mac and Windows.
XML Files/ – Folder containing percussion MIDI maps (.xml files).
SINGLE-USER_License.txt – A copy of the license agreement.
Requirements
Software
This template requires that you have the following items already installed:
Notation Software: Finale 2011 (or later)
Sample Library: Full version of Virtual Drumline 2.5 (library version 2.5.2 is supported)
Don't have Finale? Get Finale now!
Don't have the full version of Virtual Drumline? Get VDL now!
System
Your computer system spec requirements are dependent on what is needed by the software items above. Consult the documentation that is provided with them for details.
Licensing
This template falls under our SINGLE-USER License.
We also have Multi-User Licenses available. Please use our Contact page for a price quote.