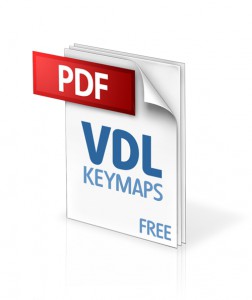 VDL Keymaps (for general use) is a PDF file that contains all of the keymaps for the Virtual Drumline sample library, version 2.5.5.
Not only does it show you where the sounds are in relation to a MIDI keyboard, but it also contains the MIDI information needed to access the sounds that use modwheel and keyswitch settings.
Using Finale or Sibelius with Virtual Drumline? Save yourself all the work of setting everything up on your own, take a look at our latest VDL template packages:
VDL Keymaps was last updated May, 2012.
Download
By downloading this item you are agreeing to adhere to our FREE-STUFF License.
VDL 2.5.5 Keymaps (386.94 KB)